Hello, dear foodies! Sophia Doris here, bringing you another fantastic recipe. Today, we're going to delve into the world of Italian meatballs. Yes, those tender and juicy spheres of ground beef and Italian sausage mixed with fresh cheese, fresh bread crumbs, and an assortment of herbs make your kitchen smell like a little corner of Tuscany.
So grab your apron, and let's cook up some magic!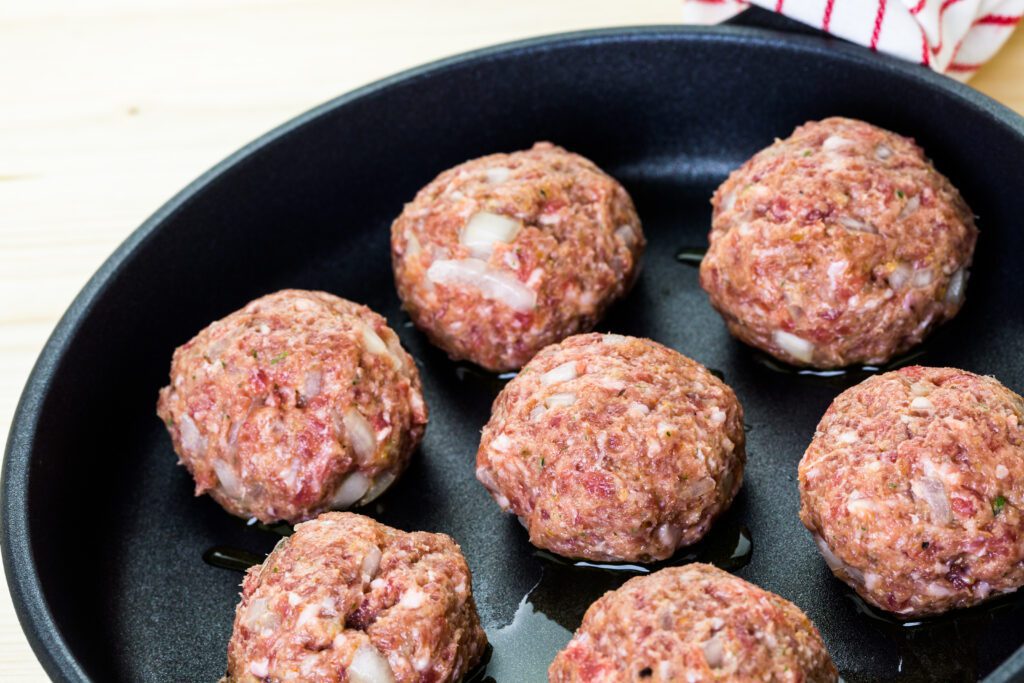 Classic Homemade Italian Meatball Recipe
Let's start with our classic Italian meatball recipe, sometimes called "the best meatball recipe" by my kiddo. These meatballs are made with ground beef, Italian sausage (you can also add ground pork or ground turkey if you prefer!), and Parmesan cheese, creating an explosion of tender and juicy flavors to make your taste buds dance the Tarantella! In my house, meatballs are always a welcome addition to any meal, so let's get into this Italian meatball recipe.
Ingredients:
1 lb ground beef
1/2 lb Italian sausage (you can also use spicy Italian sausage if that's your thing!)
1/2 cup parmesan cheese, freshly grated
1/4 cup fresh bread crumbs (preferably Italian breadcrumbs)
1/4 cup fresh parsley, chopped
1/4 cup extra virgin extra virgin olive oil (EVOO)
1 cup marinara sauce
Salt and pepper to taste
Instructions:
Preheat your oven to 375 and line a baking sheet with parchment paper. This step is crucial unless you want your meatballs to stick to the pan and become a sad excuse for a dinner entree.
Combine the ground beef, Italian sausage, bread crumbs, parmesan cheese, and parsley in a large bowl. Mix everything until all of the ingredients are evenly distributed. Mix until you have a meatball mixture worthy of a magazine cover, but be careful not to overwork the meatball mixture. You'll end up with tough and rubbery meatballs if you overdo it.
Shape the mixture into large-sized meatballs using an ice cream scoop or just your hands (clean, of course). Place these beauties on the prepared baking sheet.
Cook meatballs in the preheated oven for 25 minutes. Yes, we're making baked meatballs because we're classy like that. Voila, classic Italian meatballs!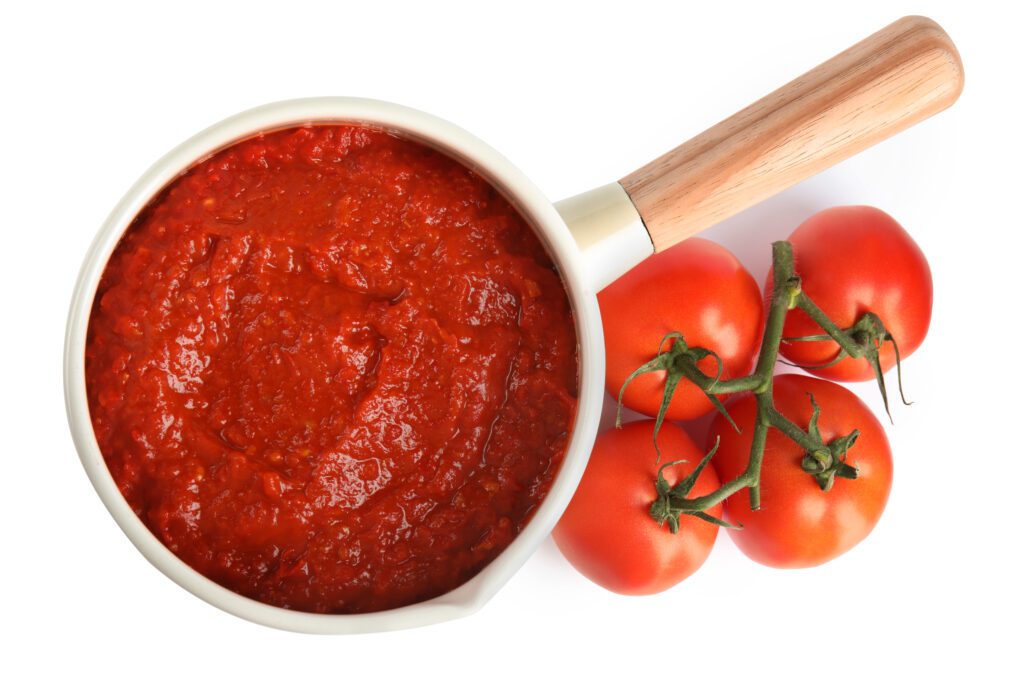 Classic Marinara for Topping Homemade Italian Meatballs
So, you don't want dry meatballs? Ok, so let's make a marinara sauce while your meatballs cook that will bring your dish to the next level. Here's how:
Ingredients:
2 tablespoons extra virgin olive oil
1 small onion, finely diced
3 cloves garlic, minced
2 cans (14-ounce) diced tomatoes, drained and slightly mashed with a fork or potato masher
1 teaspoon Italian seasoning
1/2 teaspoon kosher salt
A few leaves of fresh basil, for garnishing
Instructions:
Create this marinara while the meatballs cook!
Heat olive oil in a medium saucepan over medium heat.
Add the onion and garlic and cook until fragrant – about 2 minutes. Add the diced tomatoes, Italian seasoning, and salt. Simmer uncovered for 10-15 minutes or until thickened.
Remove from the heat and let it cool for a few minutes before transferring to a food processor or blender.
Puree until smooth, then season with more salt if needed.
Once the meatballs are cooked, transfer them to the pan with the sauce. Let them get cozy and cook for another 10 minutes.
Serve these tender meatballs with crusty bread and extra parmesan cheese. Enjoy your 5-star restaurant-quality Italian meal!
This flavorful tomato sauce will be the perfect blanket for our meatballs. But why stop there? Let's take these baked Italian meatballs and create some delicious dishes.
A Perfect Meatball Recipe for Every Pallet
Italian meatballs can be served with various sauces, veggies, and sides. They are also perfect for bringing your dishes to the next level. Here are some ideas: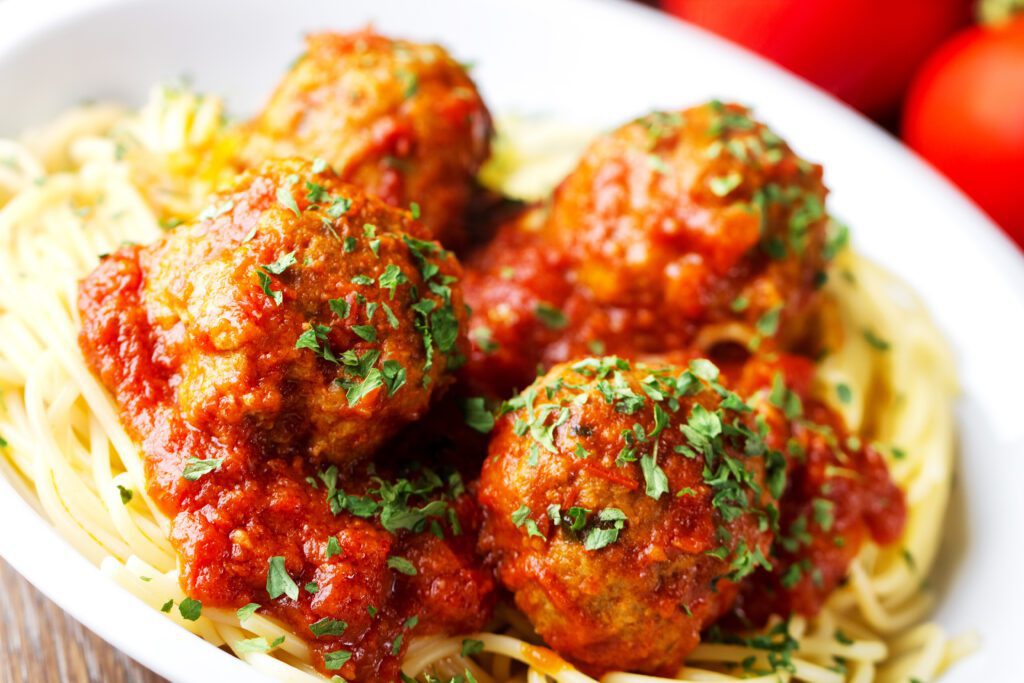 Spaghetti and Meatballs
This is a no-brainer. Every family has a special place in their hearts for spaghetti night, right? No meatball recipe collection is complete without the classic spaghetti and meatballs. It's a go-to meatball recipe that never gets old.
For this recipe, first, we'll add veggies to our homemade marinara.
Ingredients:
Cooked meatballs (above recipe)
Marinara (above recipe)
1 small zucchini, diced
1 bell pepper, diced
1 cup fresh mushrooms, sliced
Optional: 1/4 cup red wine or vegetable broth
Spaghetti noodles of your choice
Fresh parsley to garnish
Parmesan cheese for topping
EVOO (for sauteeing vegetables)
Instructions:
Cook the spaghetti noodles according to the package instructions.
In a separate pan, heat EVOO and add the bell pepper, mushrooms, and zucchini. Sautee until tender.
Add the homemade marinara sauce to the pan with the vegetables and let it simmer for about 5 minutes. Add a bit of red wine or vegetable broth if you're feeling adventurous.
Add the cooked meatballs and let them bathe in the flavorful tomato sauce until heated.
Plate the spaghetti with the meatballs and sauce on top. Sprinkle with freshly grated Parmesan cheese, freshly chopped parsley, and serve with a side of crusty bread.
This dinner entree is a classic Italian favorite that most people can't turn down!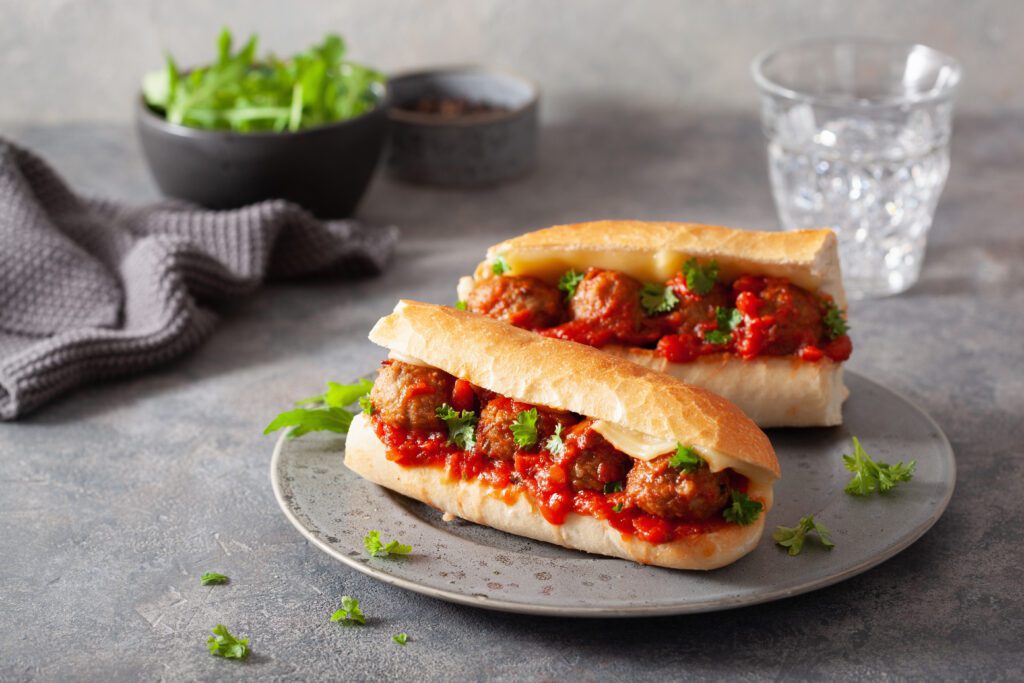 Italian Meatball Sandwiches
Turn your leftover meatballs into a delicious lunch by making meatball subs. They're easy to make and oh-so-satisfying! Just the thought of the melted cheese and the crunchy bread paired with those juicy meatballs is enough to make anyone's day better.
Ingredients:
Italian meatballs (above recipe)
Marinara or spaghetti sauce if you're feeling extra zesty! (above recipe)
Sub rolls or crusty Italian bread
Mozzarella cheese, shredded
Fresh basil leaves
Instructions:
Preheat your oven to 375 degrees F.
Slice the sub rolls open but don't cut all the way through. You want to create a pocket for the meatballs and sauce. If you're using a good crusty Italian bread instead of a sub roll, cut it into thick slices.
Place as many meatballs as you can fit onto each sandwich and still fit your mouth around!
Spoon some marinara or spaghetti sauce over the meatballs.
Sprinkle a generous amount of mozzarella cheese on the sauce and meatballs.
Place sandwiches on a baking sheet and bake in the preheated oven for about 10 minutes or until the cheese is melted and bubbly like molten lava.
Top each sub with a few fresh basil leaves before serving. Enjoy your quick and easy meatball subs!
This could easily become your go-to meatball recipe for a quick and satisfying lunch. I know it is for me!

Meatballs and Mashed Potatoes
Who said meatballs only pair well with pasta? Let's detour from the traditional spaghetti and try meatballs with a meatball recipe to top potatoes. A comfort food classic that never disappoints!
Ingredients:
Italian meatballs (above recipe)
Marinara (above recipe)
2 lbs potatoes, peeled and quartered
1/2 onion, chopped
4 cloves of garlic, chopped
1/4 cup butter
1/4 cup milk
Salt and pepper to taste
Instructions:
Heat your marinara sauce and meatballs in a medium-sized pan over low heat until the meatballs are heated through.
In a large pot, add the potatoes and enough water to cover them. Bring the potatoes, garlic, and onions to a boil, and then reduce the heat to simmer until they're fork-tender (about 10 minutes).
Drain the potato mixture and transfer it into a large mixing bowl.
Add the butter, milk, salt, and pepper to the potatoes and mash until they're creamy. (If you want extra creamy potatoes, I often replace 1/4 cup of milk with heavy whipping cream!)
Serve mashed potatoes in a shallow bowl with your warm meatballs and marinara sauce on top.
Sprinkle some grated cheese over it all for an extra cheesy kick! Enjoy
Since gluten and I don't get along, and everyone knows store-bought gluten-free noodles are a sad attempt at the real thing, this meal is a lifesaver for me.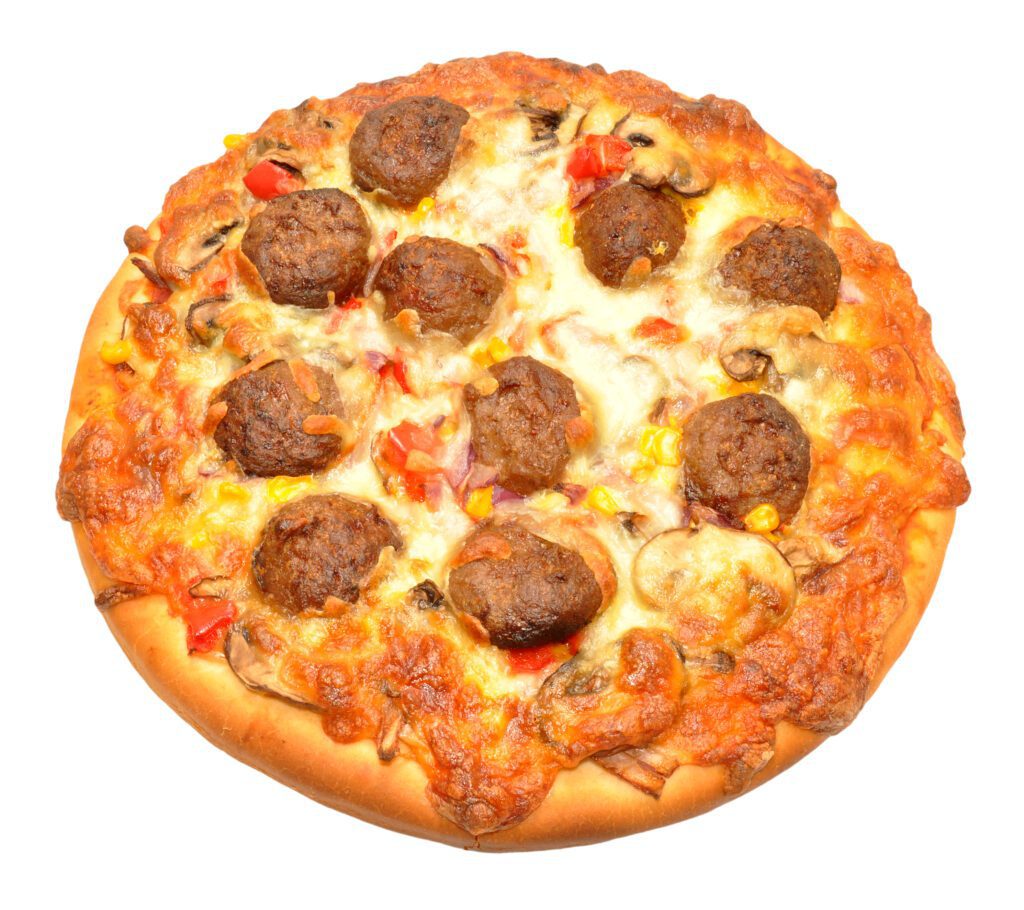 Meatball Pizza
It's like two of your favorite Italian dishes got married and had a delicious baby! This meatball recipe is so flavorful and easy to make that you'll never order takeout pizza again.
Ingredients:
Italian meatballs (above recipe)
Marinara Sauce or spaghetti sauce (above recipe)
1 pizza dough (store-bought or homemade)
1 cup favorite tomato sauce
2 cups mozzarella cheese, shredded
EVOO for drizzling
Salt and pepper to taste
Instructions:
Preheat your oven to 475 degrees F. If you have a pizza stone, place it in the oven while it preheats.
Roll out your homemade pizza dough on a floured surface. If you're feeling fancy, toss it in the air like a true Italian pizzaiolo. If you're not feeling fancy, grab a store-bought pizza dough, toss it on a baking sheet, and make it easy!
Spread your sauce on the dough, leaving a border for the crust.
Cut some of your meatballs into smaller pieces and spread them over the pizza.
Sprinkle the shredded mozzarella over the meatballs and sauce.
Top with mozzarella cheese and a drizzle of olive oil.
Carefully transfer the baking sheet to the preheated oven (or onto the pizza stone if you use one). Bake for about 12-15 minutes until the crust is golden and the cheese is bubbly and slightly browned.
Drizzle the baked pizza with a bit of olive oil and let it cool for a few minutes before slicing and serving. Buon appetite!
Cooking should be fun, so don't be afraid to get creative with these recipes. The best Italian meatballs are the ones that make you smile while you're eating them. Happy cooking!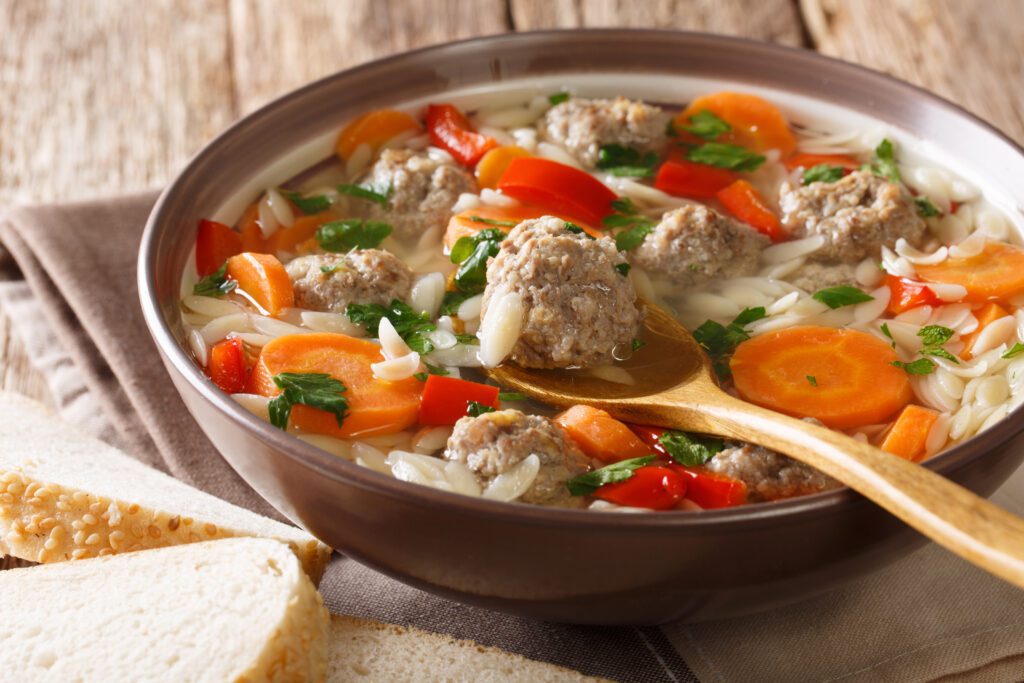 Italian Meatball Soup
Let's switch things up with a hearty meatball soup. This is the perfect comfort food for those chilly nights.
Ingredients:
Italian meatballs (above recipe)
1/4 cup EVOO
1 onion, chopped
2 carrots, chopped
2 stalks of celery, chopped
4 cups chicken broth
1 can (14 oz) diced tomatoes
Salt and pepper to taste
Instructions:
In a large pot, add the onion, carrots, celery, and EVOO. Cook until they're soft and fragrant.
Add the chicken broth and diced tomatoes to the pot. Bring the mixture to a boil.
Lower the heat and add the meatballs to the pot. Let the soup simmer for about 20 minutes.
Serve this hearty Italian meatball soup with a sprinkle of extra parmesan cheese on top. Enjoy the warmth and comfort it brings!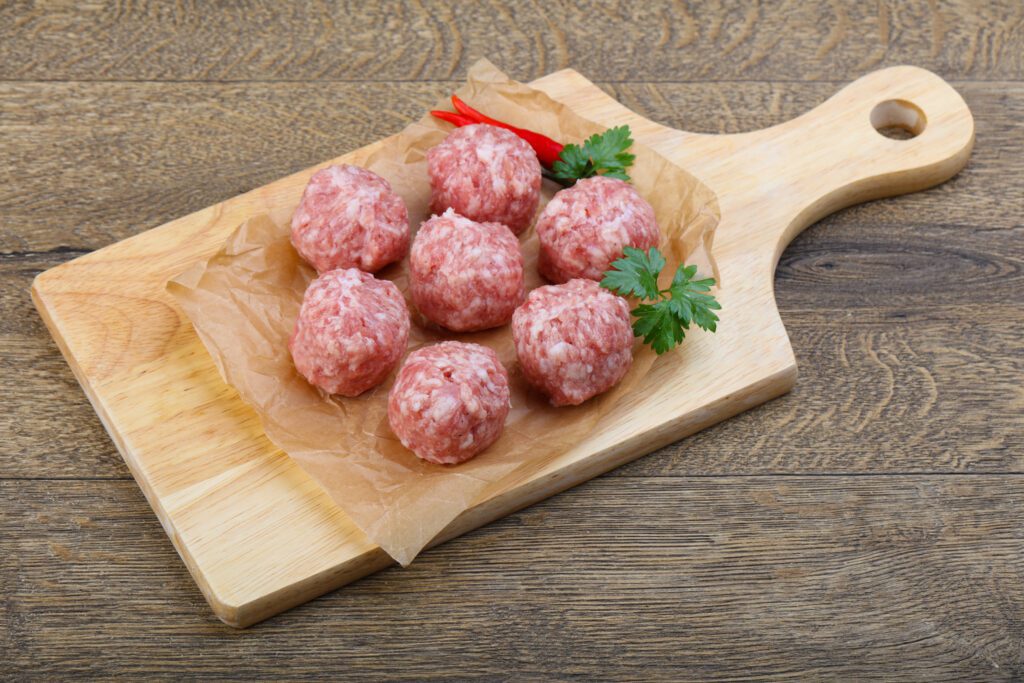 Tips for Perfect Meatballs
Remember, the secret to tender meatballs is not to overcook them. Whether pan frying or baking, keep a close eye on your precious meatballs.
Store leftover meatballs in an airtight container in the fridge. They can be quickly reheated for a speedy meal or frozen for future use.
Remember, cooking should be fun and enjoyable. Feel free to experiment with these recipes, swap out ingredients, and make them your own.
Try using a variety of different meats, such as ground beef, ground pork, or ground turkey. Mix it up and find your favorite combo! Or, maybe you're a purist who wants tender and juicy ground beef meatballs without adulteration. That's fine too!
There you have it, folks! Some fantastic recipes with Italian meatballs. From classic Italian to creative twists, these dishes will have you falling in love with homemade meatballs all over again. Enjoy!