Did you know that Italian sausage is one of the most versatile proteins around? It's a great way to add flavor and texture to your favorite recipes. And it happens to be one of the more overlooked proteins when talking about Italian cuisine.
It happens all the time in my house. My husband goes shopping and grabs a couple of packs, but they end up forgotten in the back of the freezer, waiting for the day I make spaghetti. Hey there! I'm Sophia Doris from Grosse Pointe Woods. I'm here to ensure that that Italian sausage, threatening freezer burn in the back of your freezer, doesn't just get tossed in the trash!
Today, I'm going to share 11 delicious Italian sausage dishes you can make at home. From a creamy dish with Italian sausage and spinach to creative takes on stuffed mushrooms with sweet Italian sausage and the perfect recipe for grilled sausages with onions and bell peppers for your next summer barbecue, there's something for everyone in these 11 delicious recipes that will brighten up your next family meal. So whether you're trying a popular pasta and sausage dish for the first time or looking for new recipe ideas to pair with your favorite canned tomato sauce, I am thrilled to invite you to explore this collection of some of my favorite recipes.
Let's get cooking!
Italian Recipes With Sausage
There are so many ways to cook Italian sausage! If you've come here looking for the best Italian sausage recipes to make at home and enjoy with your family, I've got you covered! I've done the hard work and sifted through the internet for the top Italian sausage recipes, rounding up the 10 best-looking recipes to cook Italian sausage at home. From slow cooker meals to classic lasagna with marinara sauce, there is something for everyone in this recipe collection!
So without further ado, let's get you one step closer to enjoying your favorite Italian sausage recipes!
1. Sausage Lasagna
Classic comfort food is never a bad idea for dinner. One of my favorite easy Italian sausage recipes is a recipe from Food Network that's literally called "Easy Italian Sausage Lasagna." It makes it easy to remember! The best part about this pasta recipe is that it's so simple to add your own flair! If you like a little heat, you can substitute mild Italian sausage links with spicy sausage or even a vegan sausage substitute, or add ground beef to your mixture. Add some veggies to your tomato sauce, like fire-roasted tomatoes, bell peppers, or mushrooms, to bring in all of those wonderful flavors and get an extra boost of nutrition as a bonus! The options are virtually limitless with this classic Italian sausage dish! Top it off with red pepper flakes and parmesan cheese; you've got a customized meal using only one baking dish that the whole family will love.
Suppose you're looking for a great place to pick up fresh Italian sausage for tonight's meal. In that case, Michigan has a fantastic selection of Italian markets! For example, Ventimiglia Italian Foods in Sterling Heights, Michigan, has great options to choose from!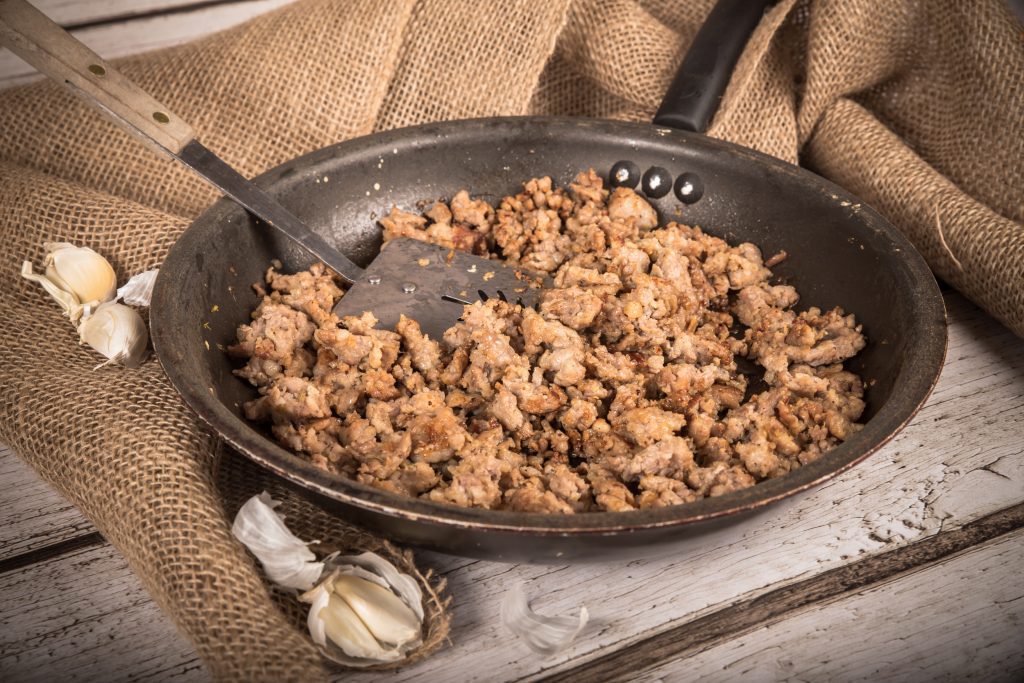 2. Creamy Italian Sausage Pasta
This Italian sausage recipe uses ground or crumbled Italian sausage, onions, garlic, and a creamy white sauce to make a delicious meal that comes together in under 30 minutes. The combinations in this savory cream sauce makes for a decadent dish your family will love!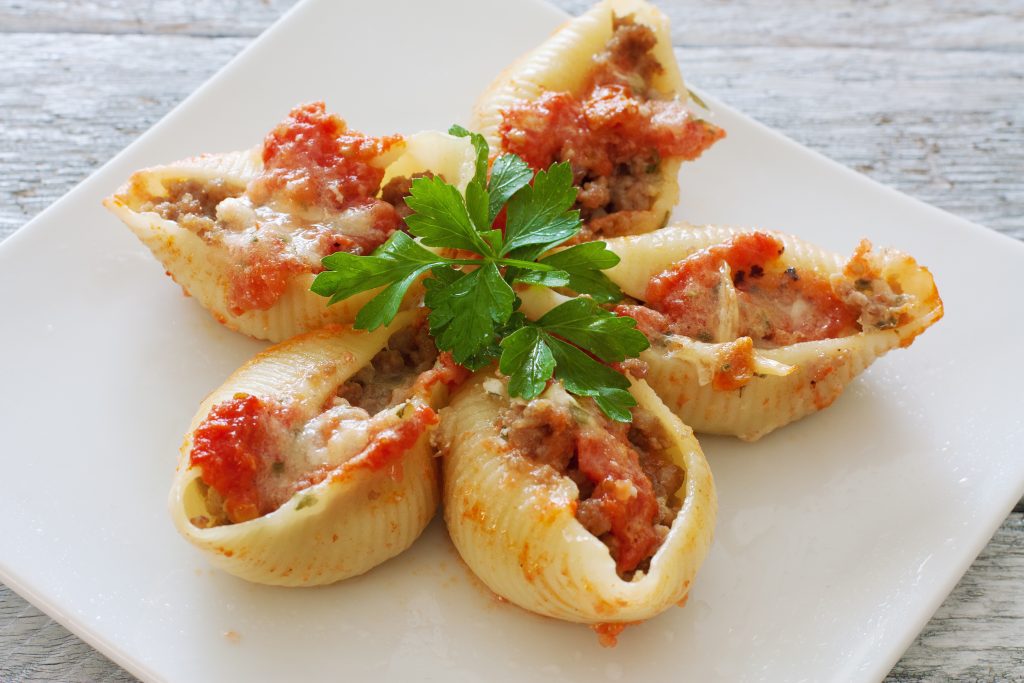 3. Sausage-Stuffed Shells
Who doesn't love a hearty Italian sausage pasta dish filled with flavor? This recipe for Italian Sausage-Stuffed Shells will have your family begging for seconds! Filled with a mixture of mozzarella cheese, and seasonings, these shells are guaranteed to become a routine recipe at your dinner table!
And suppose you're looking to dress up your shells with a little bit more than tomato sauce and ground beef or pork sausage. In that case, this Italian sausage recipe option with shredded mozzarella, parmesan, and ricotta cheese, plus fresh spinach, is sure to satisfy! Top with sour cream for extra creaminess!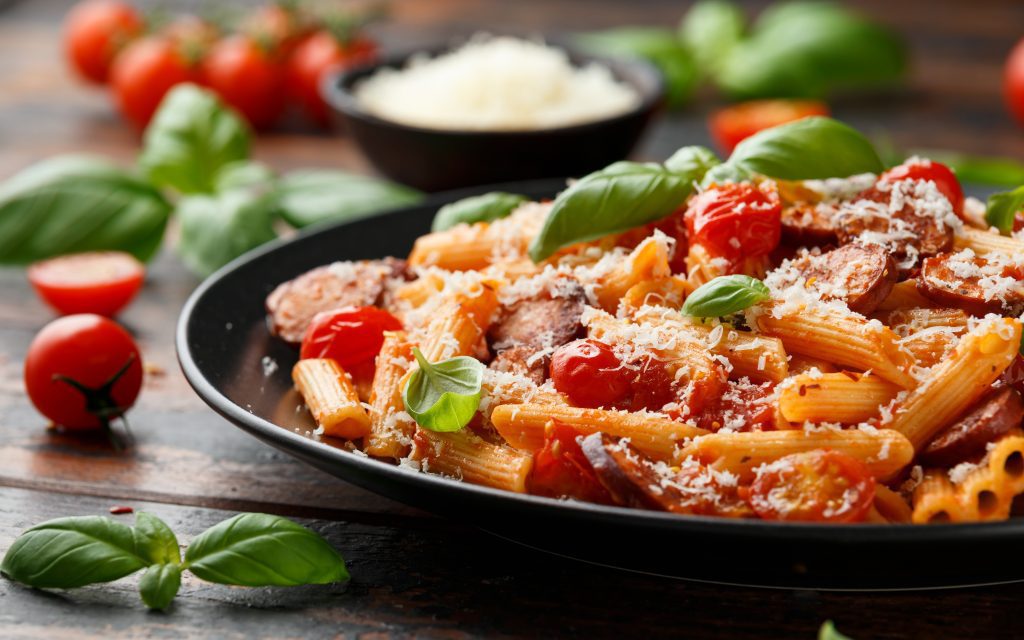 4. Italian Sausage Penne With Creamy Tomato Sauce
I don't know about your family, but mine loves a recipe with a good creamy tomato sauce! Making this easily one of my household's favorite Italian food picks.
Not only does this Italian sausage pasta recipe remind you that you can choose between mild or spicy Italian sausage, but it only takes 30 minutes! In the daily rush of life, that makes it one of the best recipes I've come across in my research! Plus, with a combination of ingredients most at-home chefs have on hand already, such as penne, ground (or crumbled) Italian sausage, marinara sauce, and garlic powder, this creamy tomato sauce pasta recipe is sure to please even the pickiest of eaters for a tasty dinner you can come back to regularly.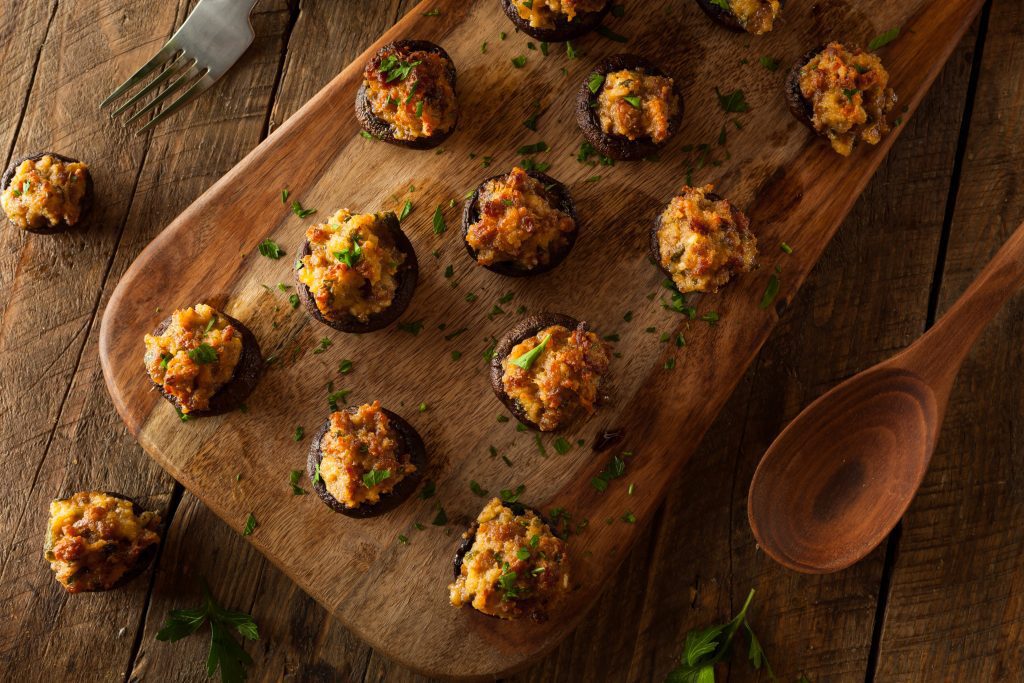 5. Italian Sausage Stuffed Mushrooms
Suppose you don't need a complete meal, but you're looking for a recipe to get your taste buds in the mood to cook up that hot Italian sausage sitting in the fridge. In that case, these Italian Sausage Stuffed Mushrooms are a great option! The author of this recipe even goes as far as giving out variations of different ingredients to personalize to your family's tastes! With the traditional flavors and scents of ground sausage, fresh herbs like thyme and parsley, white wine, and cream cheese, your kitchen will smell like an Italian bistro in no time. And you can even slide by using an air fryer to create this easy dinner starter! I have plans to use this recipe as a base for a cheesy dip that I can use for my next family gathering!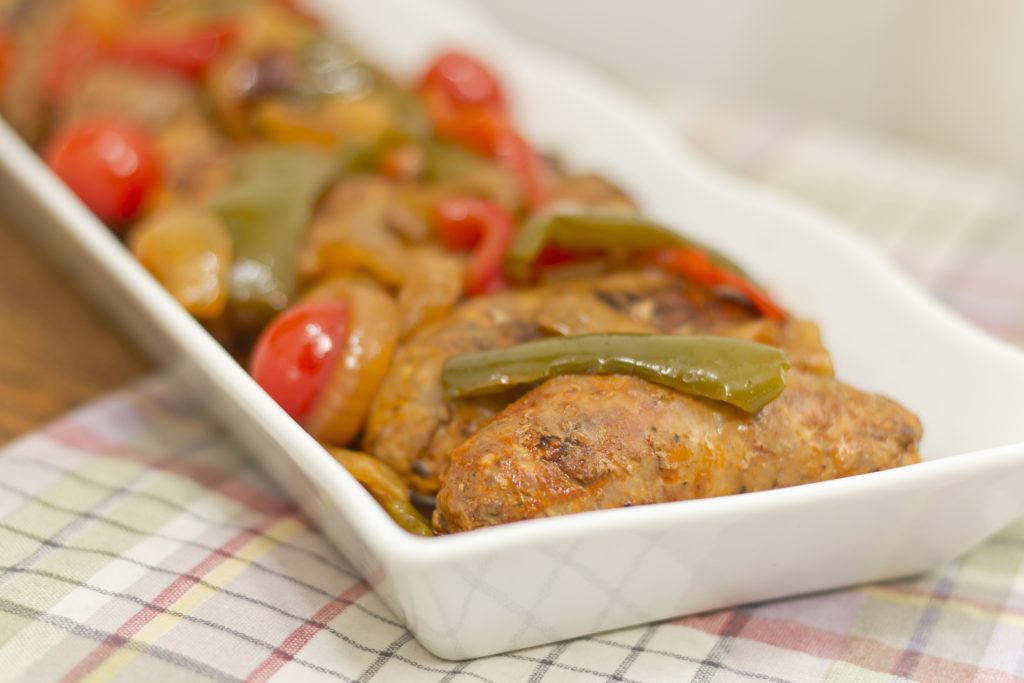 6. Italian Sausage and Peppers
Nothing says Italian like sausage and peppers! In this classic gluten and dairy-free recipe with bell peppers, yellow and red onion, Italian herbs, and sausage links, the flavor profiles are out of this world, and you still get to keep the meal gluten and dairy-free. This quick weeknight dinner is perfect for a busy family or when you need something to serve warm at a potluck. Plus, with only one pan and minimal ingredients, you can have dinner ready in no time! (If you can tell, time is a hot commodity in my household!) If you want to add a little heartiness to the meal, roasted red potatoes are a great option.
Check out Fresh Farms Market right here in Grosse Pointe Woods to get some of the best fresh veggies and Italian sausages to make this dish.
7. Cheesy Baked Pasta With Sausage and Ricotta Cheese
Pasta is some of my favorite in Italian cuisine, and this Cheesy Baked Pasta with Sausage and Ricotta Cheese makes my mouth water just looking at the recipe! I can smell it now! Fresh basil, crumbled sausage, crushed or strained canned tomatoes (you could even take it up a notch with fire-roasted tomatoes!), parmesan cheese, ricotta cheese, and chopped veggies make this dish a one-stop shop for all the flavor you can hold in one single pan! Just thinking of all of the bold flavors in this pasta dish has me wanting to skip lunch and start dinner early! The creaminess of the Ricotta cheese pairs with spicy sausage and fresh veggies for the perfect weeknight meal. And you can even top it off with a little extra shredded cheese after baking! Yum!
What's great about this recipe is that the author leaves the pasta selection up to the chef. Whether you lean towards small shells, farfalle, or star-shaped pastina, if you prefer well-cooked or al dente pasta, the choice is yours.
8. Baked Ziti
Spicy Italian sausage and Romano cheese combined with a creamy tomato sauce tossed with ziti pasta and topped with red pepper flakes – it doesn't get much better than this sausage pasta in a cheesy, creamy tomato sauce! This is the classic, hearty Italian meal that makes Italian food a recurring request in my house. Pair it with garlic bread and a crisp green salad, and you have an easy weeknight dinner that won't leave any leftovers! This recipe is sure to be a hit, not just with the family but also with your friends at a potluck or large gathering.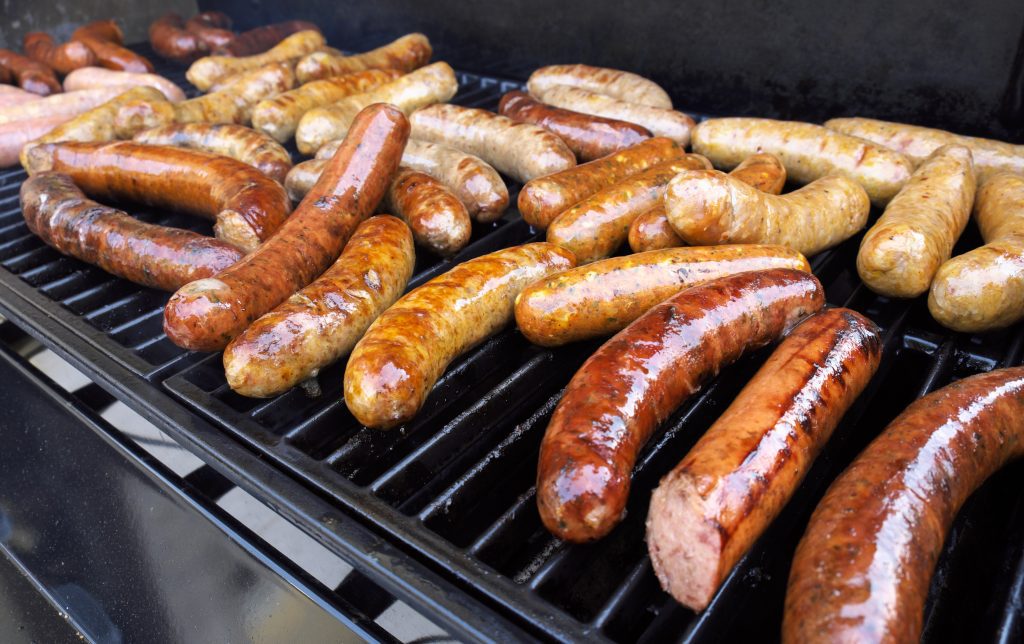 9. Grilled Italian Sausage Sandwiches
Nothing says summer in Michigan like grilling. With a cold drink in one hand and a spatula in the other, it just doesn't get much better! But if you still need an incredible Italian sausage recipe to add to your grilling cookbook, this Grilled Italian Sausage Sandwiches recipe is the perfect addition. And even if you do, you might want to give it a shot!
While Italian sausage is a classic in pasta dishes, this delicious sandwich recipe will make you forget about spaghetti and meatballs! Instead, fire up the grill and get ready for juicy Italian sausage links, crunchy bell peppers and onions, melted cheese, and a toasty bun. The combination of the smoky grill flavor from the meat and the fresh flavor of the bell peppers will have your taste buds singing summertime tunes! It's the perfect combination of savory and sweet. Of course, getting that perfect char takes a bit of skill, but if you're up for a challenge, this is the dish!
Serve this sandwich fit for a king (or queen!) on a toasted bun with spicy mustard, your favorite cheese, and red pepper flakes for an amazing flavor experience. And the onions and peppers really make for a photogenic sandwich!
Forget one skillet meals; this grill-top sausage favorite makes for an easy dinner any day of the week with minimal dishes to wash!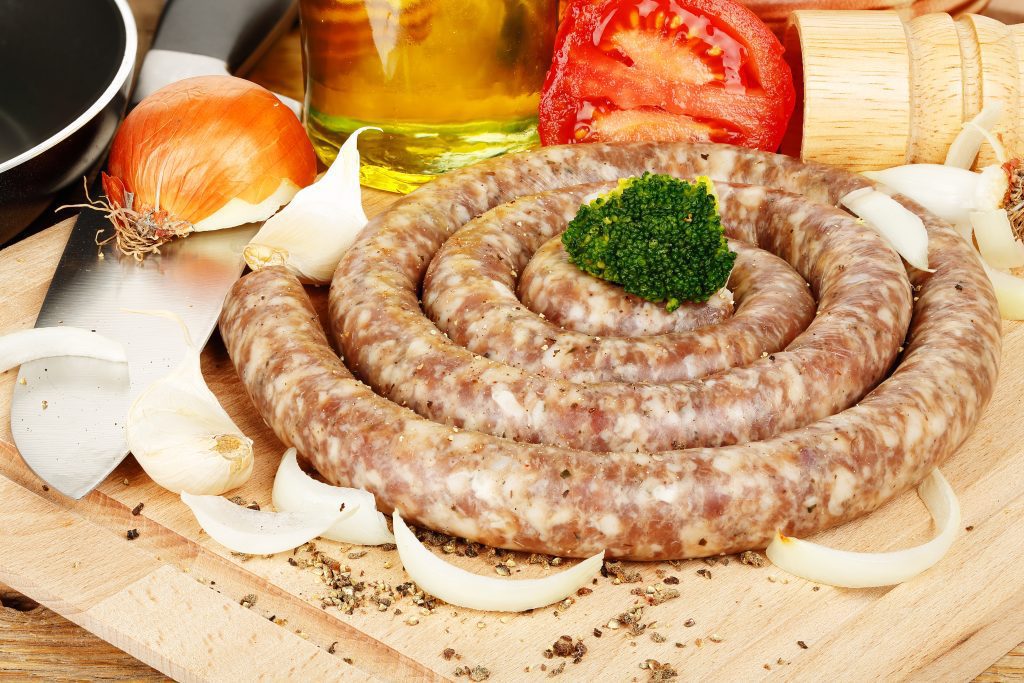 10. Italian Broccoli Soup
This soup recipe is an excellent option for anyone looking for a hearty soup packed with flavor and nutrition. With spicy sausage (casings removed), chicken broth (homemade chicken stock can take it up a notch!), chickpeas, broccoli, and heavy cream, this recipe will warm you up on those cold Michigan fall evenings and fill your belly. This soup will make you feel like you're eating at a cozy Italian trattoria! Plus, you can choose from many variations if you want to switch it up. For example, add white beans or lentils for extra protein or replace your spicy cooked sausage with mild Italian sausage links for kids and those with a less adventurous palate.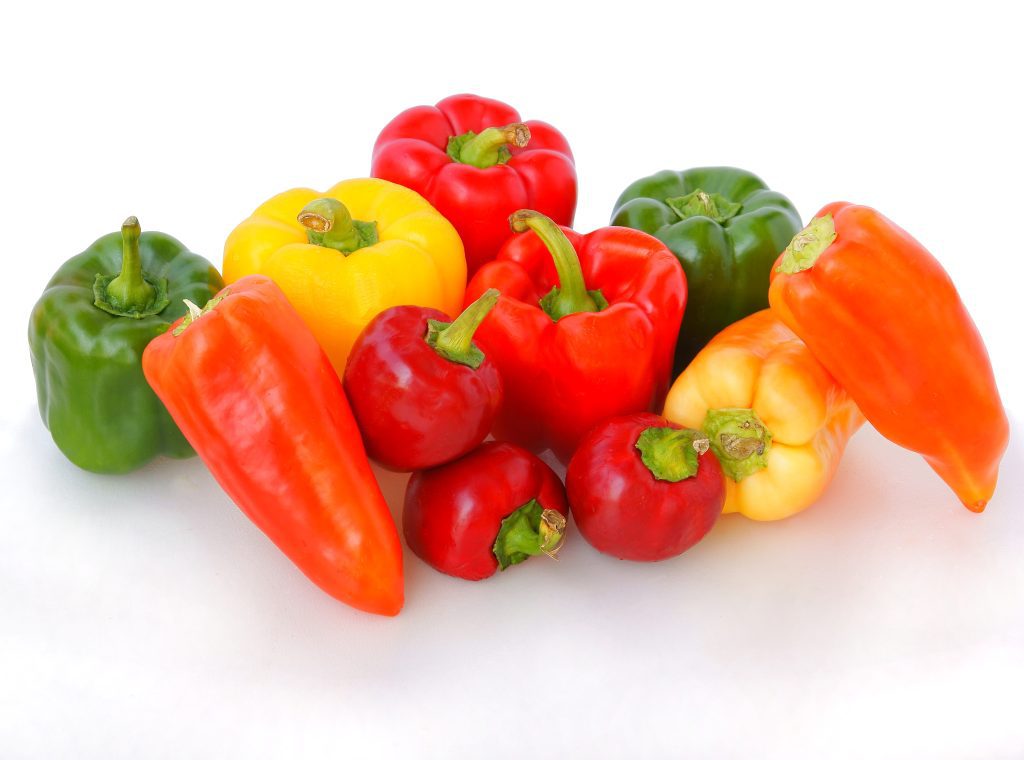 11. Slow Cooker Italian Chili
This hearty but simple chili recipe calls for ground sausage, kidney beans, beef broth, diced tomatoes, onion, clove, chili powder, and ketchup. That's it. Just nine ingredients and you can have a hearty, delicious slow cooker chili that is bursting with Italian flavors. Perfect for busy days or when you just don't feel like cooking. This is a no-brainer. Serve it up with some crusty bread or your favorite gluten-free crackers, and you have a meal. Winter in The Mitten never tasted so good!
Italian Sausages Are the Best Option for So Many Recipes
I hope these 11 Italian sausage recipes have inspired you to make something delicious and unique in your own kitchen. Whether it's a traditional sausage pasta dish with classic marinara sauce or an inventive sandwich, there are plenty of ways to use this tasty ingredient and a vast selection of sides that make perfect pairings! The possibilities are endless when you think outside the box; from slow cooker chili to cheesy baked pasta with ricotta cheese or stuffed mushrooms, there is something for everyone. With just a few simple ingredients, you can create something special for dinner that will please everyone at the table.
So grab some Italian sausage from a local market and your favorite Italian herbs and spices from your garden and get cooking – your family will thank you soon enough!
Ferlito's: For Italian Food That Tastes Like Home
When my family is craving Italian, and I don't have the time to grab a protein drink from the fridge, let alone watch ingredients "simmer over medium-high heat for 15 minutes," I know where I turn. Ferlito's Italian Restaurant in Grosse Pointe has the best Italian sausage I've had in Michigan. Their menu is always a hit at my family dinners, no matter the selection. And let's not forget their wine and local options for liquor and beer!
Ferlito's is a family-run restaurant that has been in business for over 40 years specializing in authentic Italian cuisine and freshly-made dishes with ingredients sourced from local suppliers. Their menu offers a variety of classic Italian dishes, ranging from lasagna and ravioli to calzones and antipasti, including the option to add Italian sausage to any pasta dish or pizza for an extra kick of flavor.
At Ferlito's, owner Josh Mowen's goal is to bring out the best possible flavors by using only the freshest ingredients. He takes great care in selecting high-quality meats and vegetables and finding herbs and spices that will bring out the desired flavor profile without overpowering the dishes he's spent countless hours perfecting. He even sources these ingredients from local mom-and-pop shops whenever possible! With years of experience working for this longstanding local treasure of a restaurant before he bought it, Chef Mowen has the knowledge and dedication to craft dishes that have been perfected over time through rigorous trial and error and will satisfy even the most discerning diners.
Don't worry if you spent all your cooking time looking for the perfect recipe; Ferlito's Italian Restaurant in Grosse Pointe Woods, Michigan, has you covered! When a home-cooked Italian meal isn't in the cards, head to Ferlito's for the best Italian sausage dishes you can get outside your own kitchen!
Even those of us who love to spend time in the kitchen can appreciate a break from the same routine dishes, night after night. Ferlito's is a rare gem in the community that can offer something new and exciting every time you visit!
If you've been going nonstop for what feels like years, don't beat yourself up about it! Get out of the kitchen and treat your family to the best. And, more importantly, treat yourself to a night off!
You deserve it! 
Sophia Doris lives in the Detroit Metro area and loves cooking and eating clean whenever possible. She has strong family values and hopes to publish a children's book to inspire children to try new things (even when they are scary). Sophia enjoys checking out new restaurants and trying craft cocktails when she isn't spending time with her family.