What do you think of when you hear the word "Italian"? Chances are, it conjures up images of delicious Italian cuisine, vibrant cities, and an Italian culture that values family. Italians know how to enjoy life, and a big part of that is through their food and drink.
While many people think of red wine when thinking of Italian drinks, there is much more to explore! Italian cocktails are world-renowned for their bold flavors and unique combinations.
Whether you're looking to indulge in something sweet or savory, plenty of famous Italian cocktails and nonalcoholic drinks are easy to make right in your own kitchen!
Hi, I'm Sophia Doris. As a lifelong lover of all things Italian, one aspect that has always fascinated me is the diverse and delicious world of Italian drinks. So I'm excited to share my knowledge and passion for Italian drinks in this article.
Join me on a journey through Italy's beverage scene as we explore some Italian cocktails and find new favorites together. Whether planning a trip to southern Italy or simply expanding your beverage repertoire, this guide to Italian cocktails is for you. So let's raise a glass and toast to discovering the best Italian drinks!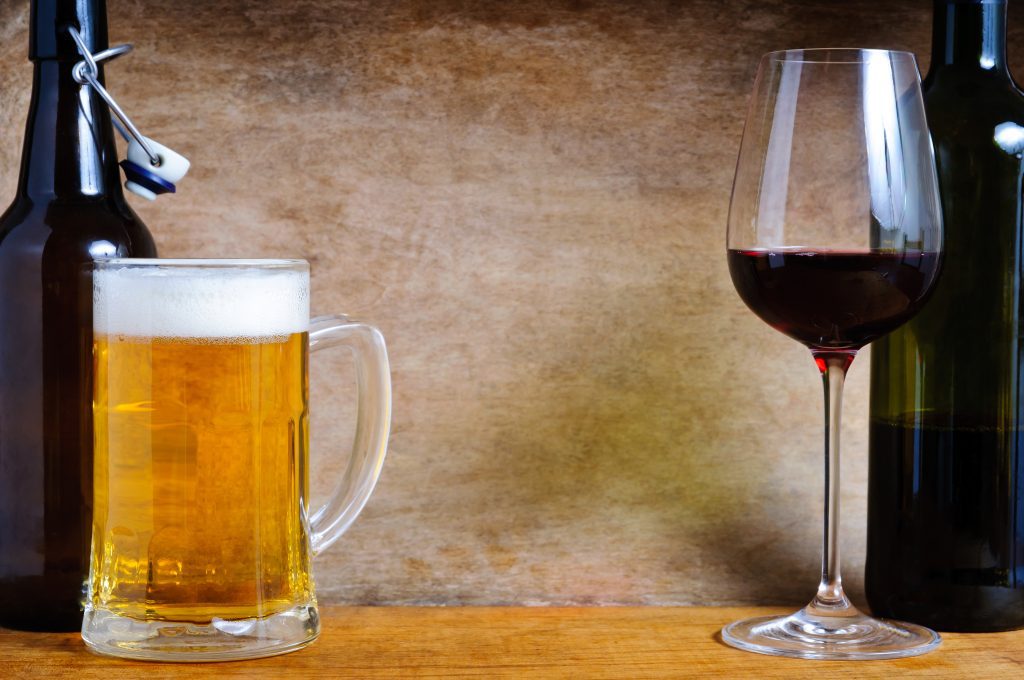 Alcoholic Drinks
When it comes to Italian alcoholic drinks, there is no shortage of options. If you're looking for a classic Italian drink, look no further than this list of famous Italian drinks and Italian liqueurs. But remember, every drink on this list is a favorite! I've arranged the lists alphabetically so you can find the right Italian drink for you!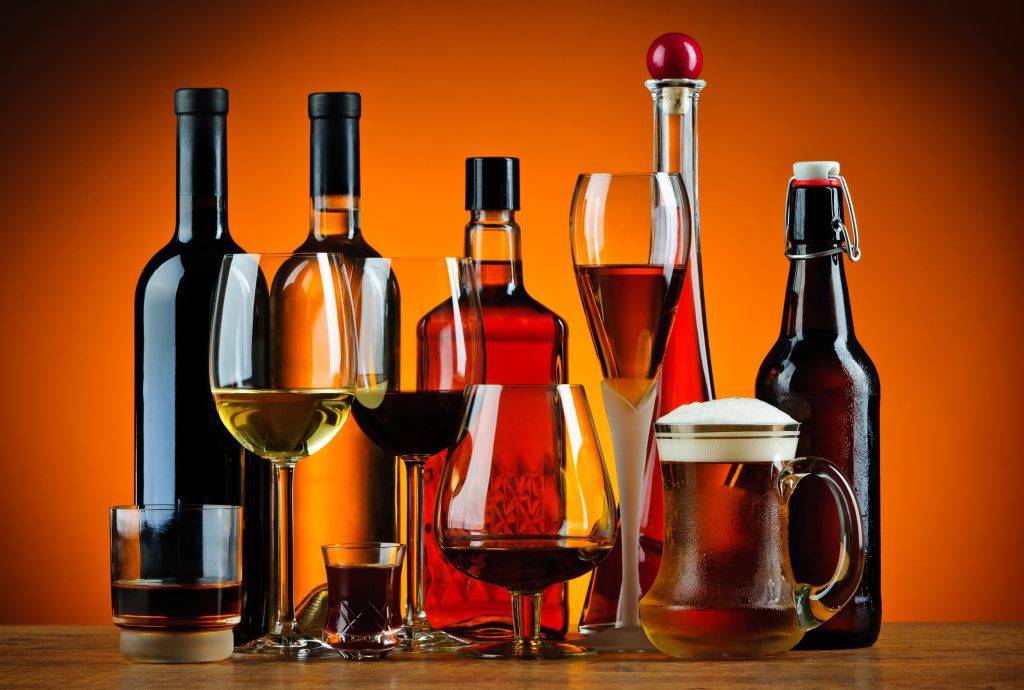 Everyday Staples
A few staples can almost always be found on an Italian dinner table.
Beer
Italy may not be as well-known for its beer as it is for its wine, but that doesn't mean there aren't some great options out there. Peroni Nastro Azzurro is one of the most famous Italian beers and is perfect for enjoying a warm summer day. Another great Italian beer is Moretti, known for its light and refreshing flavor.
Campari
Campari is a classic Italian bitter aperitif made from a secret blend of herbs and spices. It's perfect for sipping on its own or can be used to create sophisticated cocktails like the Negroni and the Americano.
Grappa
Grappa is a robust Italian brandy distilled from the pomace (the skins, seeds, and stems) of grapes after the wine has been made. It's usually clear in color and has a high alcohol content (40% or more). Grappa is generally served as an after-dinner digestif. Its flavor is often quite pungent, making it an acquired taste for some.
Limoncello
Limoncello is a traditional Italian lemon liqueur made from lemons, sugar, water, and alcohol. It's typically served as an after-dinner drink and often used in cooking. It's sweet and tart with a hint of citrus—the perfect way to end your meal or kick off an evening. Making your own limoncello is easy—all you need is some high-proof vodka, fresh lemons, sugar, and water. Start by peeling the lemons and infusing them in the vodka for about one week. Once the mixture has had time to steep, strain out the lemon pieces and add simple syrup (made from equal parts water and sugar) until you reach your desired sweetness level. Then just bottle it up and enjoy!
Spritz
A refreshing blend of Aperol (or Campari), Prosecco (or another sparkling wine of your choice,) and club soda or sparkling water, Spritz is one of the most popular Italian drinks. It's usually served as an aperitif and is perfect for enjoying with a light snack before dinner.
Prosecco
This fizzy white wine is a popular choice for toasting and drinking throughout the day. It's made from the Prosecco grapes of Italy's Veneto region and is usually dry and light-bodied. It's often served as an aperitif or as an accompaniment to dessert.
Wine
Of course, no list of famous Italian drinks would be complete without including the country's most famous beverage: Italian wine. With over 500 indigenous grape varieties, Italy is one of the world's great wine-producing countries. From light and refreshing sparkling white wine to bold and complex Italian red wine or mulled wine, there are various popular Italian wines, and choices depend on your taste preferences. Whether you're more apt to like a full-bodied wine, such as red wine, or cabernet sauvignon, or you are more apt to enjoy a chianti wine or a white wine, such as a pinot grigio or prosecco, the possibilities for Italian wine are endless for pairing with your Italian food or enjoying on its own.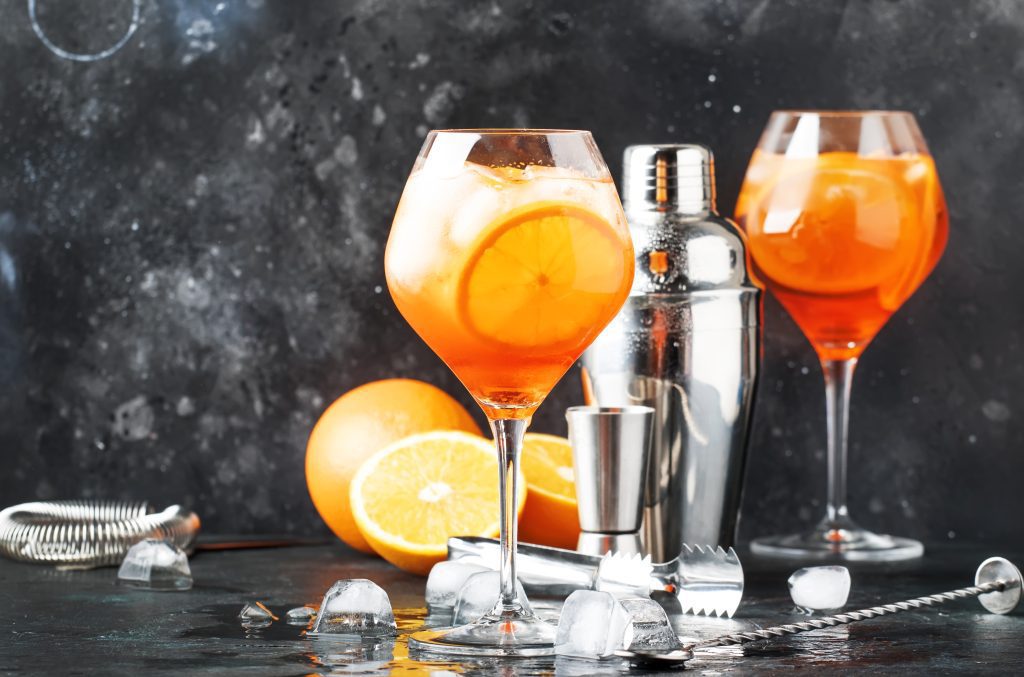 Basic Mixed Drinks
Now that we've covered a few of the staples, some of which are unique to Italy while others are popular worldwide, it's time to dive into some of the classic Italian cocktails that are beloved in the country. Here are a few essential favorites: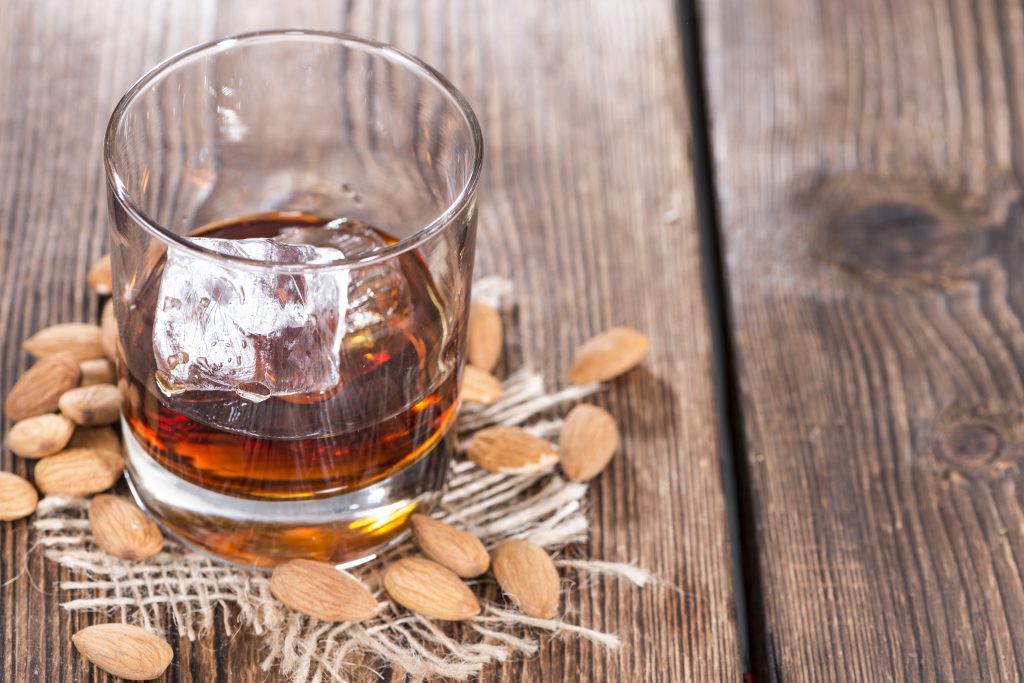 Amaretto
Amaretto is an Italian liqueur originating in Saronno, Italy, made from almond or apricot kernels or peach stones. It's sweet and syrupy, with a distinctive almond-like flavor that makes it perfect for sipping on its own or as the base of a cocktail. It's often used in baking or as an after-dinner drink.
Americano
The Americano is another classic cocktail perfect for those who want something bittersweet. A simple drink made with equal parts sweet vermouth and Campari topped off with soda, the Americano is a refreshing and easy-drinking Italian classic. It's the perfect drink for summer days or as an aperitif before dinner. If you're looking for something a little lighter than a Negroni, try an Americano.
Bonus Drink: Americano Bianco
If you're looking for something even lighter than an Americano when out for drinks in Italy, try an Americano Bianco. To make an Americano Bianco, combine one part vermouth (sweet), one part Campari, and a dash of Lillet Blanc in a rocks glass filled with ice. Top the Italian liqueurs off with soda water garnishes with a lemon twist or orange peel.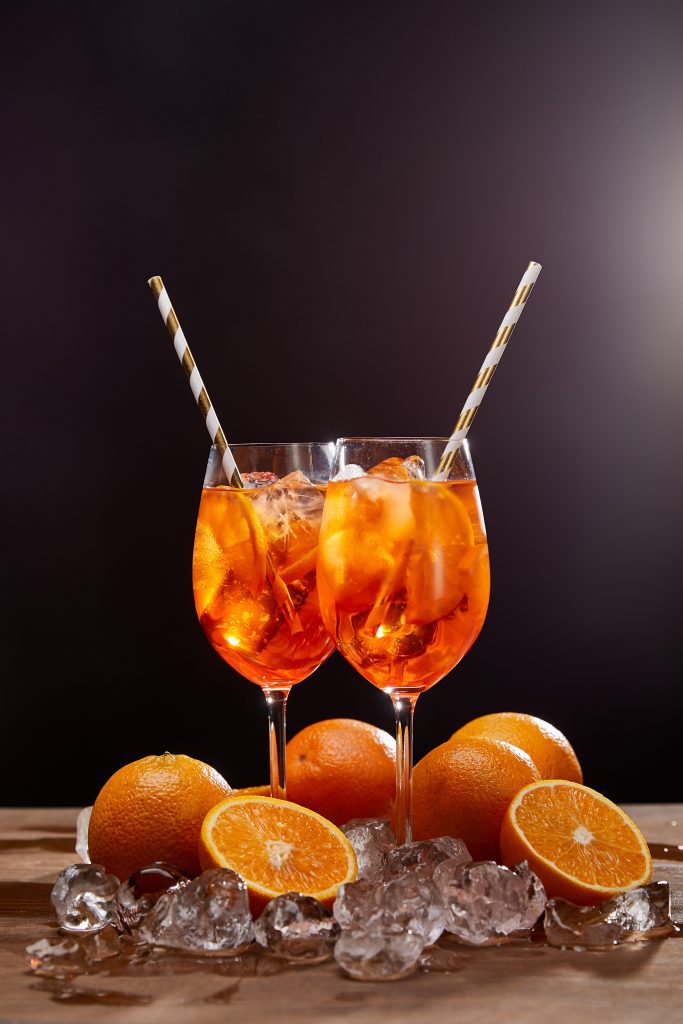 Aperol Spritz
Aperol Spritz is another popular Italian drink served in bars all over Europe for decades thanks to its bright orange hue and light, fruity flavor. The Aperol Spritz may not be as old school as limoncello, but it's still an incredibly popular Italian cocktail—it's light, refreshing, and super easy to make (not to mention delicious). This drink is perfect for warm days spent outside as it features Aperol liqueur with notes of orange and herbs blended together in its flavor profile, making it deliciously light yet flavorful. To make your own Aperol Spritz at home, just mix one part Prosecco with one part Aperol in a glass filled with ice. Top off your drink with a splash (or two) of soda, and add a slice of orange for garnish!
Aperol Sour
This delicious Italian version of a classic whiskey sour is a popular drink perfect for anyone who loves citrus flavors! To make an Aperol Sour, combine two parts Aperol liqueur with 1/2 part gin, 3/4 part freshly-squeezed lemon juice, 1/2 part simple syrup, and one egg white in a shaker. Shake all the ingredients until lightly frothy (about a minute), then strain into a glass, and garnish with a lemon peel. This Italian cocktail is best served chilled.
Bellini
Harry's Bar in Venice's Giuseppe Cipriani invented the Bellini between 1934 and 1948. The drink's pink color reminded him of Giovanni Bellini's painting of a saint's toga. This peach-based cocktail is perfect for summertime sipping. The Bellini is a classic Italian cocktail made from peach puree or nectar and Prosecco. It's a simple candy-colored cocktail that can be modified to fit any occasion. You can also add other flavors, such as raspberry or strawberry puree, and even mint, for an extra twist. To make a Bellini at home, simply combine two parts Prosecco with one part peach purée or nectar in a champagne flute. Add a splash of soda water and garnish with an orange slice for the perfect brunch cocktail!
Campari & Soda
Campari & soda is one of Italy's most popular cocktails. It's a simple drink made with Campari liqueur stirred with soda water over ice in an old-fashioned glass. To make your own Campari & Soda, simply add 2 oz of Campari liqueur to an old-fashioned glass filled with ice cubes. Top with soda water until you have a gorgeous golden orange drink. Garnish this refreshing aperitif with an orange for extra flair!
Campari Spritz
Another famous Italian drink, the Campari Spritz, is made with Campari, dry prosecco, and soda water. This cocktail is often served with a twist of orange peel for added flavor. To make your own Campari Spritz at home, combine two parts Campari with three parts dry Prosecco and top off with an ounce of soda. Garnish this slightly bitter and refreshing Italian cocktail with a cute orange peel for the perfect summertime drink.
Espresso Martini
If you're looking for something stronger than Aperol spritz but not as sweet as limoncello, then an espresso martini might be just what you need. This vibrant drink has become famous worldwide thanks to its smooth texture and bold flavor profile. To make this tasty beverage, start by brewing espresso and allowing it to cool completely. Next, combine two parts vodka, 1/2 part coffee liqueur, one part espresso, and 1/2 part simple syrup in an ice filled shaker; shake vigorously until chilled, then strain into a martini glass. If desired, top with grated dark chocolate flakes, layered drinking chocolate, or coffee beans, and serve immediately!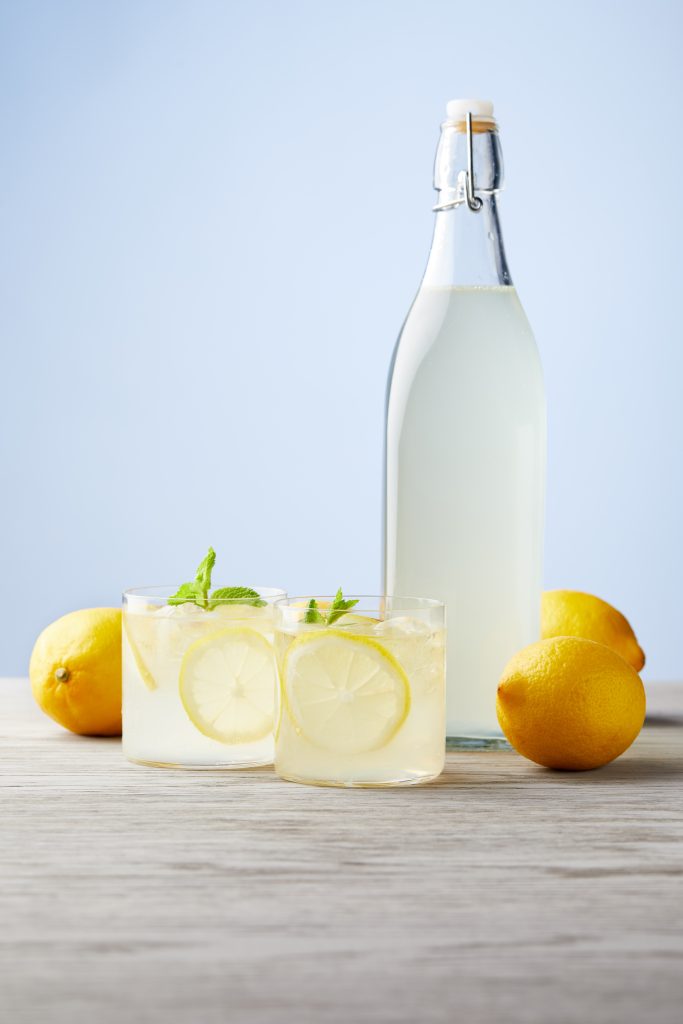 Limoncello Spritz
A twist on the classic Aperol Spritz, this refreshing famous Italian cocktail spritz combines two traditional Italian flavors into one Italian cocktail—limoncello and Prosecco—for an irresistible summertime drink. To make it at home, mix two parts limoncello with three parts Prosecco in a glass filled with ice and top with soda. Add in several slices of lemon for garnish, and enjoy!
Mimosa
The Mimosa is like the Kir Royal's bubbly cousin: it's light, refreshing, and perfect for brunch (or any time of day). To make a Mimosa, combine one bottle of chilled dry Italian sparkling wine with three cups of chilled orange juice (if you want the whole experience of Italian tradition, freshly squeezed orange juice is a must) and a half cup of Grand Marnier. Serve in a flute glass. For an extra special touch, garnish your Mimosa with a slice of orange or a sprig of fresh mint, and enjoy! (recipe makes eight servings.)
Bonus Drink: Blood Orange Mimosa
For something different (and equally delicious), try substituting fresh blood orange juice for regular orange juice in your next Mimosa. Trust me; you won't be disappointed!
Negroni
The Negroni cocktail is among the most popular Italian cocktails in Italian drinking culture. This drink is perfect for those who like a strong flavor, as all three ingredients combine to create a bitter flavor while remaining balanced. It is a simple combination of equal parts gin, Campari, and sweet vermouth. It can be served on the rocks or mixed with Champagne for a refreshing summery twist. To make your own classic Negroni cocktail at home, simply fill a glass with ice and add 1 ounce each of gin, Campari, and sweet vermouth. Stir until everything is combined, and garnish with an orange wheel. Enjoy one of the best Italian cocktails around!
SOMETHING DIFFERENT
Now that we've tackled some classic Italian cocktails let's take it up a notch and try something different.
Arancia Rossa Cocktail
This delicious cocktail combines the sweetness of oranges with the bitterness of Campari for a unique flavor profile. To make the Arancia Rossa Cocktail, mix two parts fresh squeezed red grapefruit juice (or orange soda) and three parts Campari. Add a tablespoon of simple syrup if desired and stir until everything is combined. Serve over ice, garnish with an orange slice, and enjoy!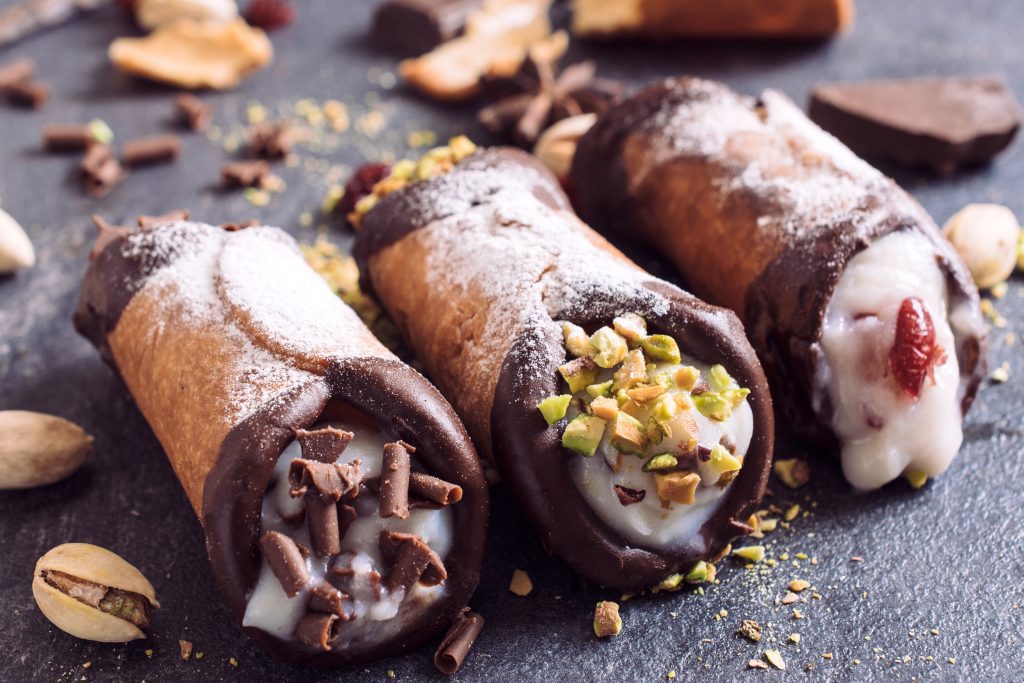 Cannoli Martini
Love Cannolis? Then this cannoli martini recipe is a must-try! To Make a cannoli Martini, dip the rim of a martini glass in melted chocolate and sprinkle it with mini chocolate chips (or chocolate shavings). Chill the glass for a few minutes to allow the chocolate to set. While the glass is chilling, combine three parts half & half, 1 part cookie vodka, two parts chocolate whipped cream vodka, one part amaretto, one part ricotta cheese, orange zest, and a dash of cinnamon in a cocktail shaker with ice. Shake for 30 seconds or until the mixture is cold and combined. Pour the cocktail into a martini glass.
Cucumber Gin Fizz
This refreshing cocktail is perfect for hot summer days. To make a Cucumber Gin Fizz mix a cucumber (after peeling and seeding it), half a cup of water, and a tablespoon of honey in a blender until it's smooth. If you'd like a cleaner mixture, you can strain the mixture through a fine metal sieve, but doing so is optional. Add the above cucumber mix and 1.5 oz of gin into a shaker. Shake vigorously with ice. Pour the mixture through a strainer into a clean glass with ice. Top with 4 to 6 ounces of club soda and decorate with mint, lime, and cucumber slices.
Italian Mule
Love Moscow Mules but looking for something different for cocktail hour? Try this Italian twist on the classic Moscow Mule recipe! To Make an Italian Mule, fill a glass with ice, 1.5 ounces of vodka, 1 ounce of Amaro Lucano, and a splash of lime juice. Stir the mixture. Add six ounces of ginger beer and garnish with a lime wedge. Enjoy!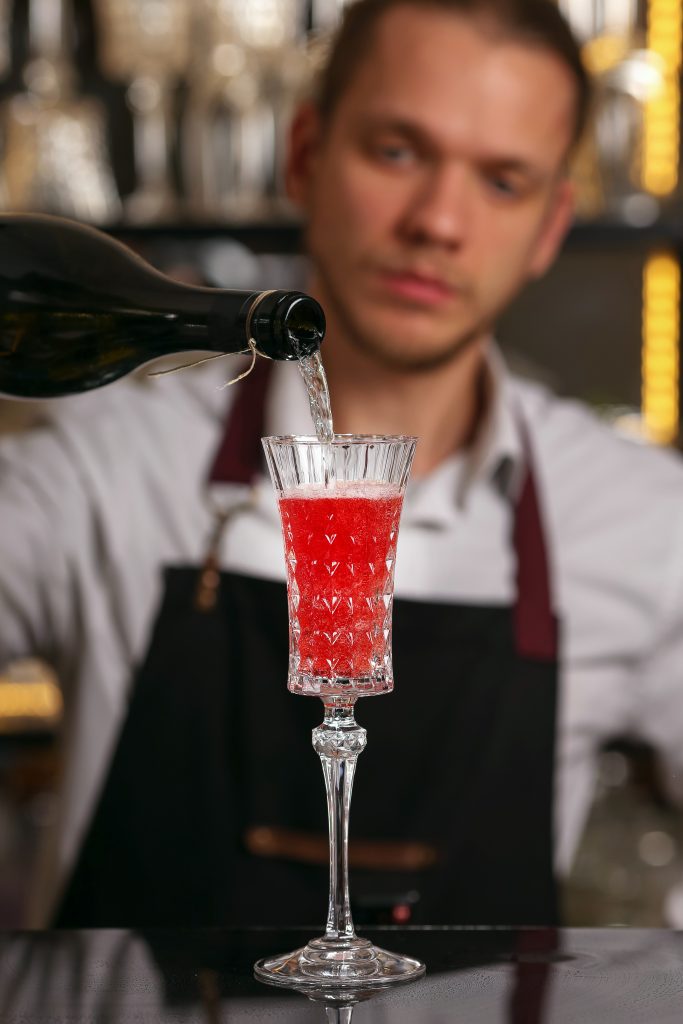 Kir Royal
A Kir Royal is perfect for anyone who loves Champagne but wants something a little sweeter. To make a Kir Royal, pour 3 to 4 tablespoons of Chambord, Crème de Cassis, or Crème de Framboise into each flute. Add three to four raspberries. Top each flute with chilled sparkling wine and serve straight away. This classic Italian cocktail has just the right sweetness and will surely be a hit at your next gathering!
Pistachio Martini
For this Italian twist on the traditional martini, spread pistachios and chocolate syrup on two shallow plates. First, dip the edge of the martini glass in the chocolate and then in the pistachios. Put glasses in the fridge or freezer to chill. Half-fill the shaker with ice. Put two parts vodka, three parts pistachio liqueur, a dash of Irish cream, and one and a half ounces of white chocolate liqueur in a shaker, and shake vigorously. Pour into a garnished glass.
Strawberry Basil Prosecco Punch
Perfect summertime punch recipe that's both flavorful and refreshing! This recipe combines strawberries, water, sugar, basil, and black peppercorns to make sugar syrup. You'll then combine freshly squeezed lemon juice, ice water, and strawberry basil syrup with a bottle of prosecco and serve in a tall glass over ice garnished with basil leaves and strawberries.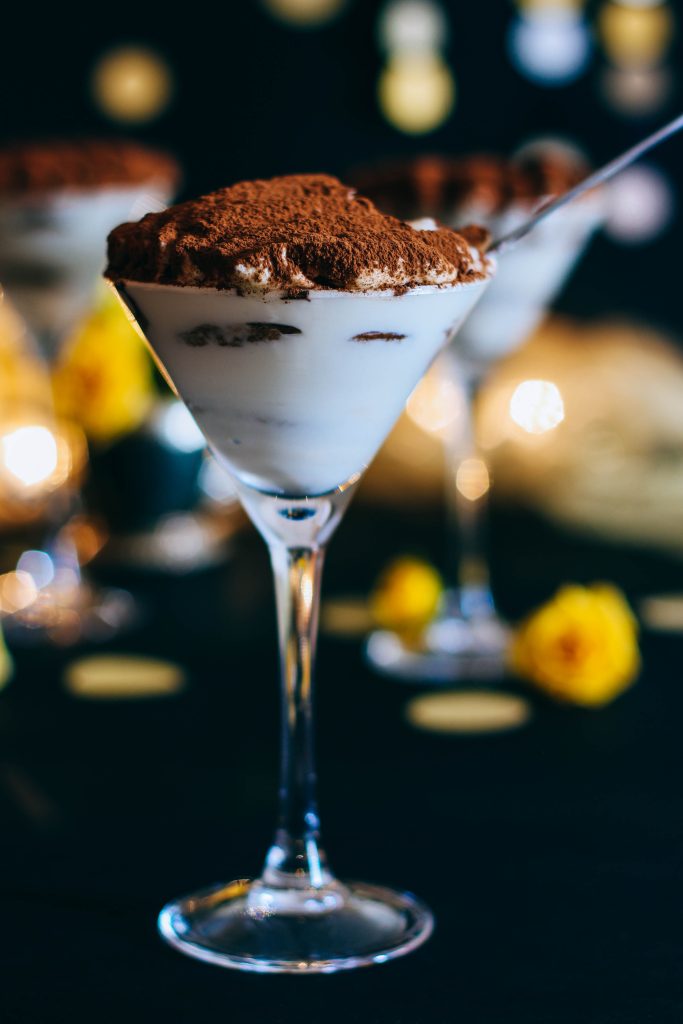 Tiramisu Martini
This boozy twist on the famous Italian dessert is perfect for special occasions. To make a Tiramisu Martini, coat the inside of a martini glass with chocolate syrup in a spiral pattern. In a cocktail shaker, combine ice, one part each of Baileys, Kahlua, and vodka, and a splash of milk or cream. Shake until thoroughly combined, then strain into the prepared glass. Top off with a dollop of sweetened whipped topping and garnish with cocoa powder, grated dark chocolate, or coffee beans. Enjoy!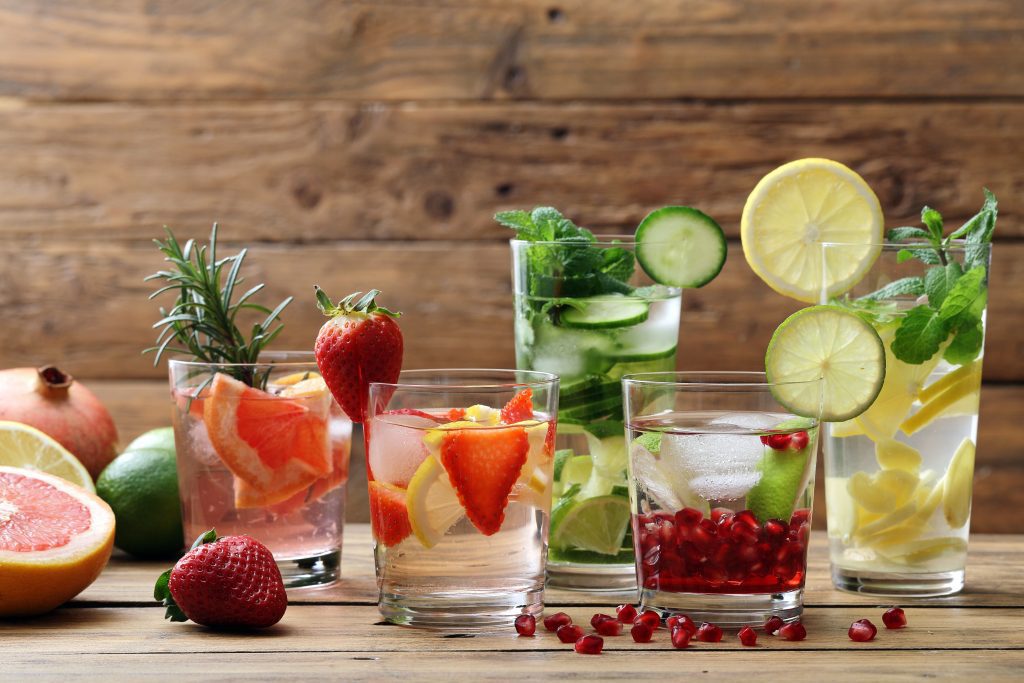 Non-Alcoholic
Maybe you're not interested in Italian cocktails and would rather see some non-alcoholic pre-dinner drinks. No problem! Here are some flavorful non-alcoholic options to enjoy without guilt.
Coffee
Everyone knows Italians love their coffee. There's no better place to get an authentic Italian espresso or cappuccino than in your own kitchen! So I'm giving it its own section!
Affogato al Caffè
Affogato al caffè literally translates to "coffee drowned," which gives you an idea of what this dessert/drink hybrid consists of; one scoop of vanilla gelato topped with one shot of hot espresso. Not exactly a pre-dinner drink, but too delicious to leave out!
Breve
Like a latte but made with half-and-half instead of whole milk, breves are richer and creamier than their non-fat counterparts, making them ideal for those who want something indulgent without the alcohol. You can also add a shot of flavoring like chocolate or hazelnut to make your own custom breve!
Caffè Americano
Not your standard American coffee, a Caffè Americano is espresso-based. Made by adding hot water to espresso, caffè Americano results in a weaker but larger cup of coffee than if you were to drink an espresso alone. This makes it a popular choice for those wanting to save money by further stretching their espresso.
Caffé au Lait
Café au lait is coffee with hot milk added in (as opposed to steamed milk) and is a popular European drink. Combine two parts of freshly brewed hot coffee with one part milk. Sweeten to taste and enjoy!
Caffè Latte
Often referred to simply as "latte," caffè latte consists of espresso and steamed milk topped with foam (similar to cappuccino). The critical difference between a caffè latte and a cappuccino lies in the proportion of milk to espresso; a latte contains more milk than a cappuccino resulting in a less intense flavor profile.
Café mocha
A café mocha is similar to a latte but includes chocolate syrup or powder to add a bit of sweetness and an extra flavor kick. To make, combine espresso with chocolate and milk. Top with whipped cream, marshmallows, cinnamon, or cocoa powder for added decadence!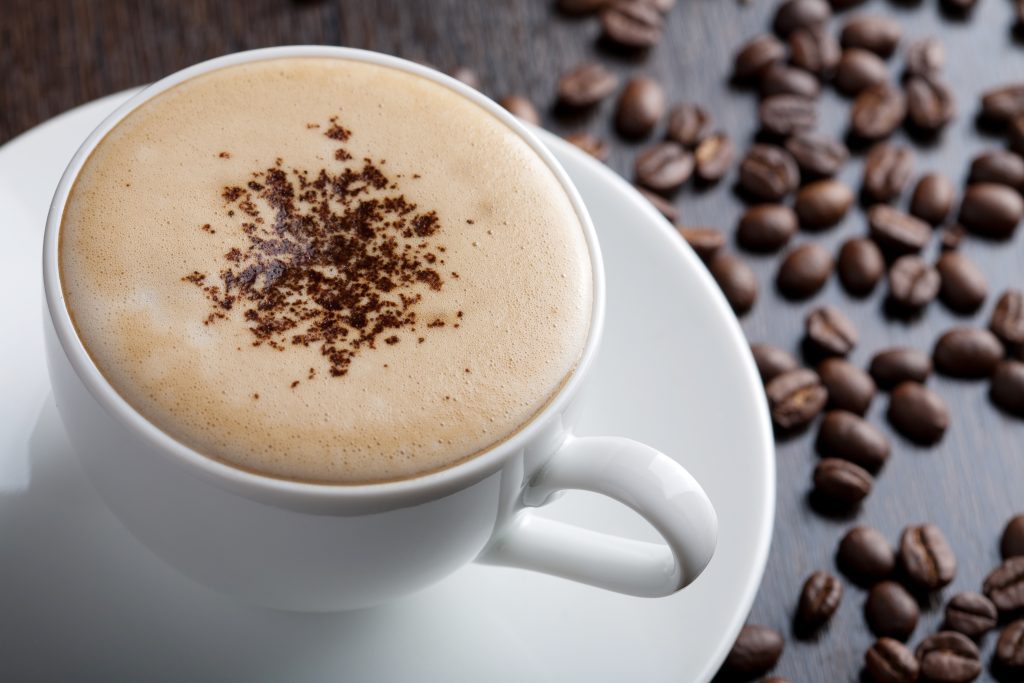 Cappuccino
A coffee drink that consists of espresso and steamed milk topped with foam, cappuccino is traditionally drunk in the morning or after lunch as an afternoon pick-me-up caffeine fix. It's a popular choice for those who want something lighter than an espresso but still want their caffeine fix.
Cortado
Made by adding an equal amount of steamed milk to an espresso shot, cortados are similar in strength to regular espressos but have a slightly mellower flavor due to the added milk.
Espresso
A strong coffee drink made by forcing hot water through finely-ground coffee beans. Espresso is the base for many other popular Italian coffee drinks like cappuccinos and lattes.
Espresso con Panna
Espresso con Panna literally translates to "espresso with cream" and is made by adding whipped cream to an espresso shot. It's a great way to add a bit of sweetness and richness without over-indulging in sugar or dairy.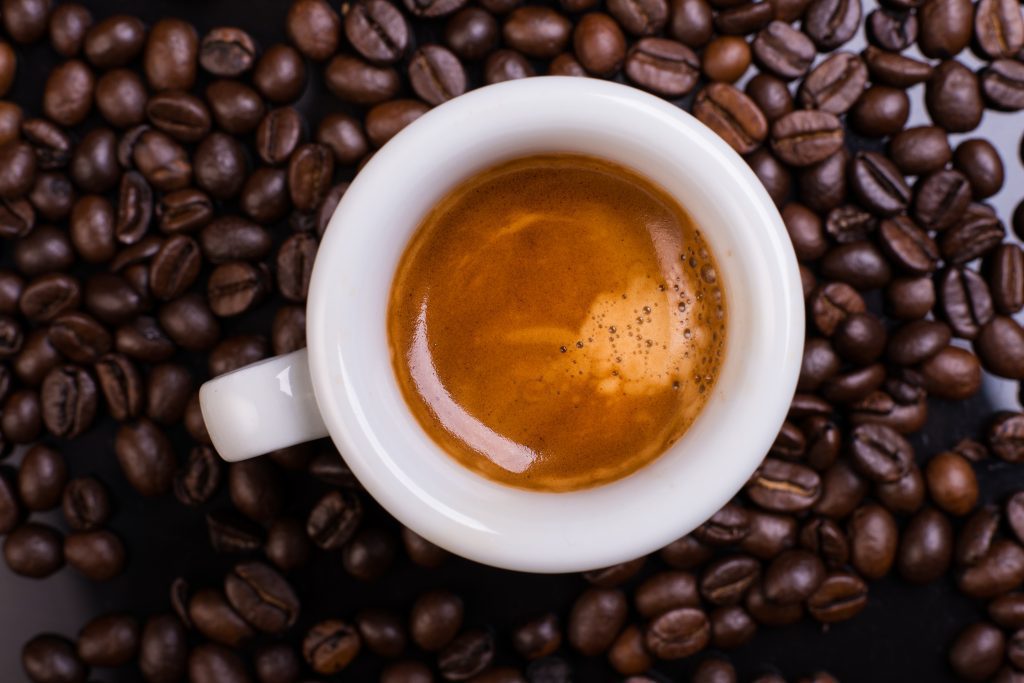 Macchiato
Meaning "marked," macchiato refers to any coffee drink that contains espresso "marked" or stained with a small amount of milk. This can be done by adding steamed milk directly to an espresso shot or by pouring an espresso shot into milk that has already been frothed. Macchiatos are much stronger than lattes or cappuccinos and perfect for those who want a bold coffee flavor.
Ristretto
An even more potent form of espresso that contains less water than a regular shot resulting in more concentrated flavors. Ristrettos are typically half the size of a traditional espresso but pack twice the punch, making them perfect for those who want an extra strong coffee fix.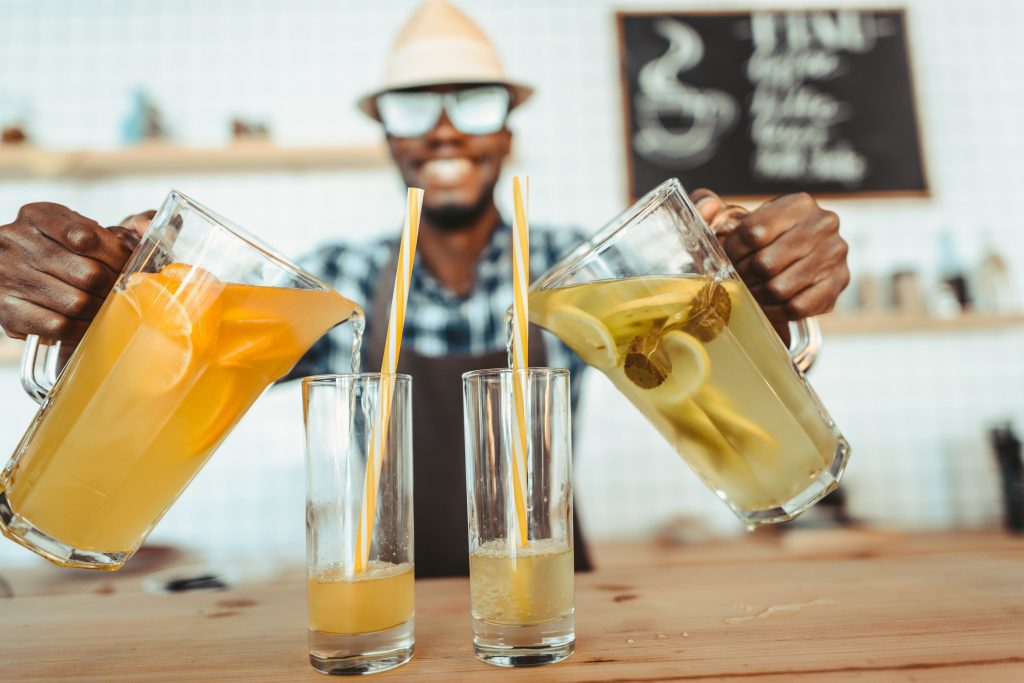 Refreshing Non-Alcoholic Beverages
Cofee is a significant part of the modern dining experience but sometimes one wants to enjoy a non-alcoholic cold beverage that quenches thirst! Cider, soda, iced tea, and lemonade make are all staples, but here are a few choices that you don't see everyday!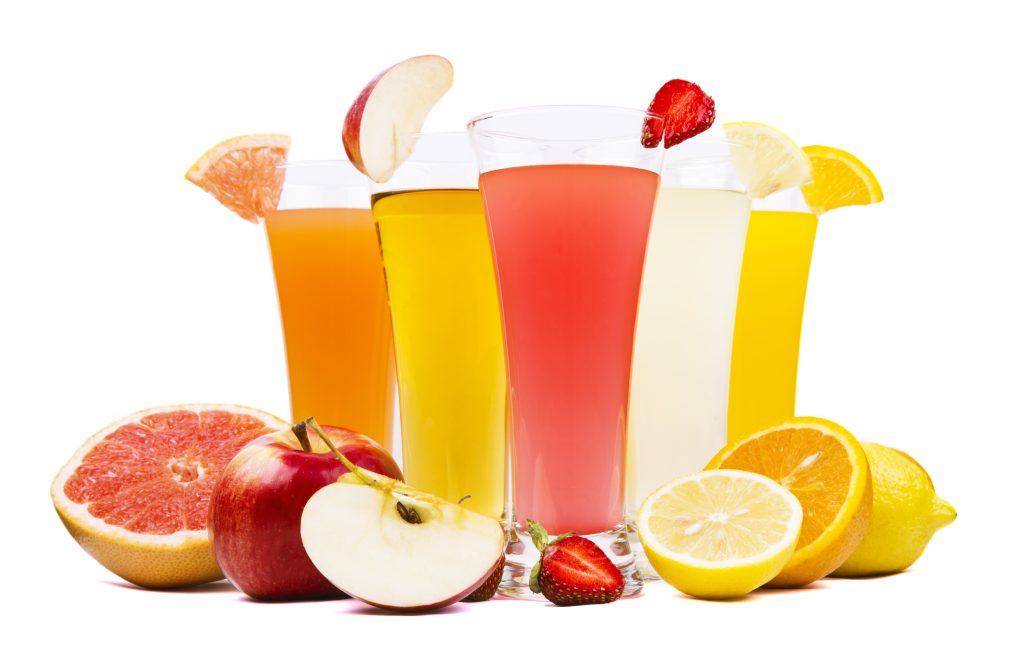 Aranciata
A popular non-alcoholic beverage in Italy, aranciata is carbonated water flavored with oranges. It's often served alongside food as an alternative to plain water. Sanpellegrino makes two versions of the drink- Aranciata Rossa (with added raspberry juice) and Aranciata Bianca (with added orange blossom water). To make your own aranciata, mix freshly squeezed orange juice with carbonated water and sweeten it to taste. Garnish with an orange for a refreshing beverage!
Italian Spritz
Spritzers are perfect for those who want an Italian-flavored drink without alcohol. Combine juice with sparkling mineral water and add a drop of aromatic bitters or nonalcoholic options like Lyre's or Fre Brut Non-alcoholic Champagne Wine. Add some ice and garnish with an orange slice or fresh basil leaves. The result is a light and refreshing drink that's sure to please!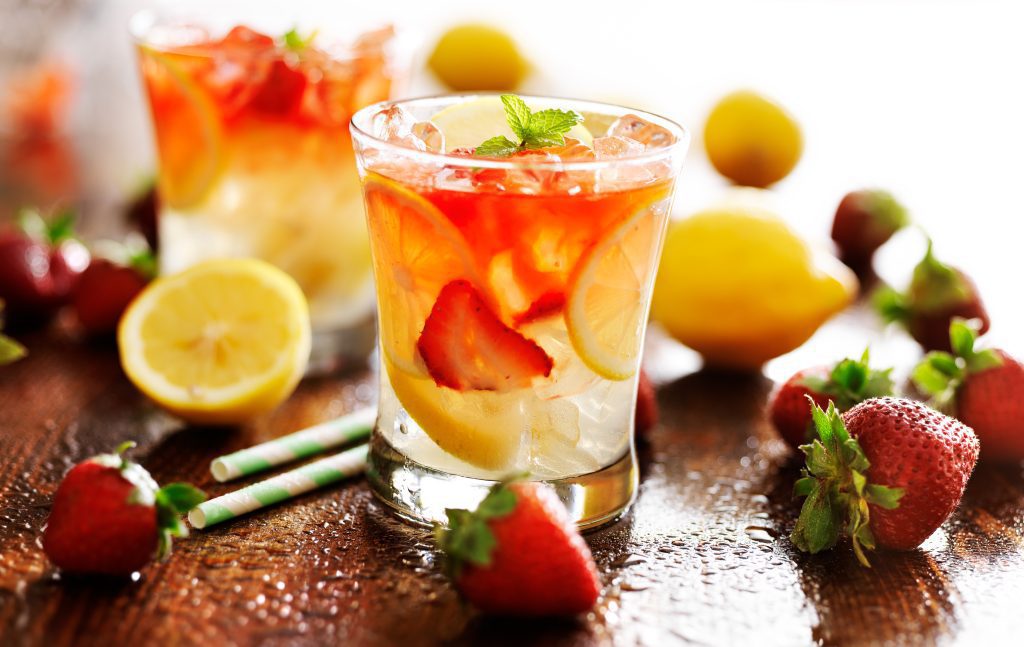 Flavored Lemonades
Fresh homemade flavored lemonades are a great way to add a bit of zing and freshness to your choice of drink. Mix freshly squeezed lemons with simple syrup, then add in some fresh or frozen fruit, herbs, and even spices for an extra kick!
So What Are You Waiting For?
Grab some friends, invite them to your place for Italian food and drinks, whip up some tasty cocktails—and cheers to good times ahead!
Whether you're looking for something sweet or something with a bitter taste, there are plenty of delicious Italian drinks to explore from all over Italy on this list of incredible cocktails! From Limoncello to Campari & Soda to Aperol Spritz to all the different coffee options, these drinks will bring you closer to Italy without leaving Metro Detroit! And most are easy enough to make right in your own kitchen, so why not enjoy making these Italian cocktails and nonalcoholic drinks on your own or share them with friends – either way, they're sure to be a hit!
Whether you're looking for something non-alcoholic or something to help you forget your troubles at the end of a long day, this list has got you covered! There are endless possibilities when it comes to Italian drinks!
So what are you waiting for? Grab some friends, invite them to your place for Italian food and drinks, whip up some tasty cocktails—and cheers to good times ahead!
Sophia Doris lives in the Detroit Metro area and loves cooking and eating clean whenever possible. She has strong family values and hopes to publish a children's book to inspire children to try new things (even when they are scary). Sophia enjoys checking out new restaurants and trying craft cocktails when she isn't spending time with her family.